ALANYA VILLA FOR RENT - THE BEST WAY TO LUXURY AND CHEAP HOLIDAY
Alanya is famous for its wide and long beaches with blue flags, Antalya has been burdening tourism for years. The deep blue sea invites you to the sea with its turquoise color. Ultra-Luxury Hotel with its famous, are in first place in terms of tourism in Alanya in Turkey. But isn't it necessary for a solution for people who can't stay in such luxury hotels? At this point Alanya Villa Rentals for the preference of the holiday maker's face with the choice of
Alanya Villa Rentals option with a choice of really different branches of tourism is also mobilized. Actually, because the landlords are not managers, they are either local or summer living in another city. This provides additional income for the landlords and keeps the tourism alive. It is an important opportunity for those who want to visit and relax in their own home with villas located in easy to reach places. This situation, creating a crowded holiday situation with your loved ones can reduce the amount you will pay. In this way you can have a unique holiday while having fun and stress and staying at affordable prices in the rooms decorated with luxury goods. If you have a car, you can take advantage of unique beaches every day. It must have been very attractive to many people that in recent years Alanya Villa Rentals has been ranked 2nd in tourism.
Right now in there are 1 houses available.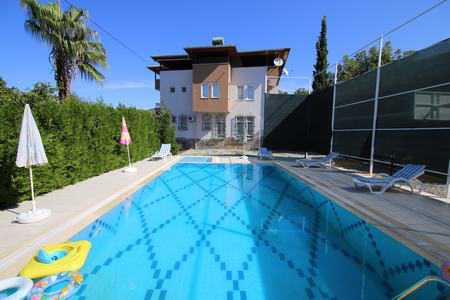 Villa Element - Alanya / Mahmutlar
Out of 8 reviews, the average score is : 8.88 / 10
House type :
Villa with a private pool
Capacity :
12 people (5 bedroom(s))
Price:
536

EUR

... starts from daily rates

Please choose a date above to know the price information for your holiday term.